relations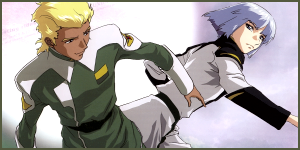 Yzak & Dearka: Dearka is easily Yzak's most important relationship in the series. They became friends in the academy, graduated together and were assigned to the same squadron. Their personalities even each other out, Yzak being the hot-headed one who jumps into things and Dearka being the more laid-back of the two. As early on as the Gundam SEED Suit CD 5: Athrun x Yzak x Dearka drama you can see how close the two had become in the amount of time they'd known each other, with Dearka saying things to Athrun such as "that's just who he is," as well as trying to set up a situation where Yzak wouldn't throw a tantrum in the end. You can tell that the two know and like each other very well/much. At the start of Gundam SEED, they're the two in the Klueze Team who are almost always shown together and agreeing on things, giving the viewers an early indication that they're friends. It's Dearka that becomes the catalyst for Yzak's own character development toward the end of the series, helping him open his eyes to the reality of the situation and realize that the path ZAFT was beginning to move down wasn't one to just simply accept and go along with because he was a soldier. The two serve as an Athrun and Kira scenario, but one where the two don't actually end up fighting or hurting one another. In the end, Dearka's influence on Yzak causes him to, as Yzak later puts it in the Gundam SEED Destiny: The Edge Desire manga "Partner," to "remember why he is wearing his military uniform, and what it is one should truly defend." He puts aside the views of which side is which in order to simply save somebody that he cares about. In Gundam SEED Destiny, the two of them are back in ZAFT, with Dearka being a part of Yzak's squadron (though Dearka is now in a green uniform, Yzak seems to put him in charge of things when he's not on the front lines himself, so whether or not Dearka himself was demoted for his actions in the first war, Yzak clearly knows well enough that Dearka wouldn't misuse that sort of reseponsibility). And though they don't show up much in the series, the times that they do are camaraderie, and the two take action and jump into battles together (since, once again, the situation arises where things just need to be done in order to end the war, regardless of which side it's from). At the end of the series they are still noted to be in each other's presence, coming full circle to show just how close the two are.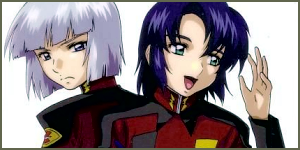 Yzak & Athrun: Athrun would be Yzak's other important relationship. Yzak has a drive to be the best he can be at everything he does, so does his best to become just that. While he aims for that goal specifically, Athrun manages to out-do Yzak in most things without the concentrated effort to, including coming out top of their class at the academy. This creates a rivalry type relationship between the two, best shown in the Gundam SEED Suit CD 5: Athrun x Yzak x Dearka drama where the focus between the two is on the game of chess. Throughout Gundam SEED's beginning, Yzak constantly attempts to intimidate and demean Athrun out of jealousy. Despite this, however, and even noticable in the pre-series drama, Yzak actually does care for his comrades, including Athrun. He's clearly distraught at the idea of fighting him later on in the series. In Gundam SEED Destiny, Yzak's relationship with Athrun doesn't change, he still yells at him and calls him annoying. But they're still both obviously friends (of the rival-kind) and when the situation starts to change on PLANT, this shows when Yzak asks him to return to ZAFT, and that he'd do what he can to help Athrun do so, proving that Yzak is well aware that he's more than capable of making a difference. In the Gundam SEED Destiny: The Edge Desire manga "Partner," Yzak discovers that Athrun could have possibly been killed in action. Anguished, he calls him stupid for not contacting them about any help, implying that he was more than willing to provide as much as he could. After the end of the series, Athrun still meets up with Yzak and Dearka for important occasions, such as vising the graves of their fallen comrades. They still act the same, Yzak still jealous of Athrun's talents, but that only serves as part of what makes their friendship as a whole work.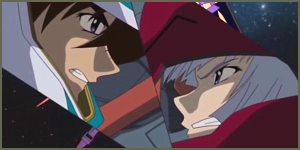 Yzak & Kira: For most of the Gundam SEED series, what Kira is to Yzak is the pilot of the Strike Gundam. Natural, and sworn enemy. Yzak had no idea Kira was a Coordinator, much less Athrun's childhood friend until episode 45. From the start of the series, Kira and the Archangel continuously fight off the Klueze team and manage to survive on their journey. The constant failure to take down what should be an easy target infuriates Yzak, so in battle he tends to strike out without thought. This leads him to an easy defeat, as well as a scar across his face as a result from a bad injury. This only fuels Yzak's hatred for the mysterious pilot of Strike, and the hate remains until he's finally led to believe they were finally taken down by Athrun. In turn, Yzak unknowingly caused Kira his own share of grief. What Yzak thought was a shuttle full of escaping soldiers was really filled with civilians Kira had rescued at the start of the series, so he shoots it down despite Kira's effort to protect it. Toward the end of the series, Yzak is shocked to find out that Kira not only survived, but now piloted the Freedom Gundam - a mobile suit that Yzak had crossed paths with since it first appeared in Alaska. By that time, Yzak begins his change in character, so as the war goes on and worsens, he too jumps into things and makes hasty choices in the middle of battle. One choice being, after the Freedom and its allies appear to help save PLANT from oncoming nuclear missiles, warning them about an oncoming attack from ZAFT's newly-revealed WMD. Both Kira's and Yzak's help for one another, despite not being specific, still proves that the two of them were able to put their pasts behind them. This is shown in a small, ironic way, when Yzak rescues Dearka and returns him to the Archnagel - the Duel resupplies and launches ... equipped with Strike's shield. And it's shown in a much bigger way when we see Yzak at the end of the series without his scar. In Gundam SEED Destiny, the two have no interaction whatsoever, save for the extended ending where they're simply shown together in the same room with a large group. There is one instance where Dearka jokes to Yzak, asking him if he'd like the Freedom to come and rescue him, which irritates him. In the Melancholy of Yzak drama, we finally get Yzak and Kira interaction. Though a lighthearted and mostly funny drama, their dynamic is one of an ever-lingering annoyance from Yzak's end due to his opinion that a lost Kira was like a child.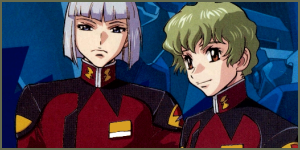 Yzak & Nicol: Yzak and Nicol don't have very much interaction in the series. What little they do consists of Yzak or Dearka talking down to him or calling him a coward due to his opposing view on how to deal with situations (Nicol more took Athrun's side and overall view on things). However, it's made clear in more ways than one that, like many other cases, Yzak cared about Nicol just as much as his other comrades. Yzak's reaction to Nicol's death is just as bad at Athrun's. In Gundam SEED Destiny, Yzak still dutifully visits his grave and explains that he continues to fight for ZAFT and wear his military uniform because he wants to make a difference for the sake of his friends who are gone. In the Gundam SEED Suit CD 10: Kira Yamato x Strike Freedom Gundam drama, called "Death Anniversary," Yzak and Dearka meet up with Athrun on the date that Nicol was killed and still honor him; gaining an old recording of one of his piano performances to listen to.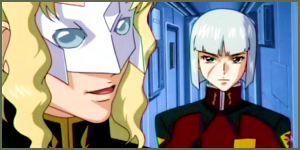 Yzak & Klueze: Klueze is Yzak's commander thoughout about the entirety of the Gundam SEED series. At the start, many of Yzak's actions and opinions for action are due to his want to be appreciated by Klueze and to get his sense of glory and attention as a result. However, Yzak is constantly overshadowed by Athrun, who gets Klueze's attention and praise, to the point of being asssigned as the team's commander in his absence. As the series progresses and Yzak winds up being the only one left, he still show some signs of aiming to impress his commander, particularly during the battle in Alaska. Little does Yzak know, however, that Klueze was well aware of the truth of the battle's situation and outcome, yet sends Yzak straight into the fray to meet the same planned fate as the Archangel was to face. After the event, the remainder of the Klueze team lay low until the series moves back into space. Klueze presses Yzak on the possibility of Athrun now being his enemy if they meet again, and Yzak continue to follow his orders. Following the meetings on the Mendel colony, Yzak starts to show signs of mistrust and suspicion for Klueze. But the two don't interact after that as Yzak gets put in command of his own team and Klueze moves on to his own agenda. It's notable that in Gundam SEED Destiny, Yzak holds the same position that Klueze once did.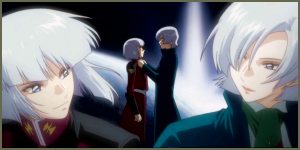 Yzak & Ezaria: Ezaria is Yzak's mother, and the only member of his family featured in the series. During the Gundam SEED series, Ezaria is part of PLANT's Supreme Council - serving under the Chairman and governing PLANT as a whole. Ezaria represents Martius City, where she and Yzak live, she's a radical (who wishes to escalate the war rather than negotiate) and her committee assignment is that of National Defense. Her academic specialty is aerospace engineering. Like many of the male characters in the series, Yzak greatly resembles his mother, even though he was not genetically altered in the womb being a second generation Coordinator (second generations were naturally born, inheriting their Coordinator parents' abilities). Ezaria herself is a first generation Coordinator, meaning her own parents were Naturals (an interesting fact, considering her radical stance in the war). Yzak's personality for the first half of Gundam SEED reflects Ezaria's (when we finally meet her); she's brash, straightforward and quick to anger, dislikes Naturals as a whole and sees herself and her people as superior. But she's not cold-hearted, and her relationship with Yzak appears to be a very close and warm one. When Yzak begins to second guess ZAFT and his reasons for fighting, he has a difficult time speaking up about this to his mother, who is eager to end the war by firing their weapon of mass destruction. Ezaria herself gives Yzak encouraging words with a kiss to the cheek, telling him he has an important role after the war, and that in order to keep her son safe she was planning to deploy him and his team to the rear. After the first war, the council is taken over by those who supported Lacus Clyne and her faction, and Ezaria is arrested. She's not featured in Gundam SEED Destiny, except in the Gundam SEED Destiny: The Edge Desire manga "Partner," where a framed photograph of her sits on Yzak's desk, serving as one of his many reasons and things to fight for. In the Melancholy of Yzak drama, she seems a little too invested in the fact that Yzak seems to have no interest in marriage or woman, starting rumors along with that he is member #1 of the Lacus Clyne fanclub. She creates (and voices) female holograms that harass Yzak at home in an attempt to quash said rumors. While very clearly overbearing in her actions, it fits with the narrative that she care about the well being of her son, even if it drives him to run out of the house screaming.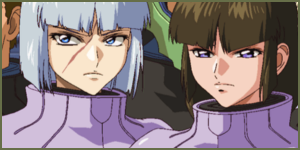 Yzak & Shiho: Shiho is a member of Yzak's team. In Gundam SEED, she was assigned to his newly-appointed team toward the end of the war. While she has no proper speaking parts in the show, in the Flower that Blooms on the Battlefield manga that takes place at some point during the first series, we see some interaction between her and Yzak. Her nickname, "Housenka," which means "touch-me-not," was given to her by Yzak due to the fact that her mobile suit cannons firing resembles that of a flower dispersing seeds. Shiho appears to have a bit of a crush on Yzak, though whether or not he realizes this is unknown, as he doesn't seem to show any indication of it. However the two do clearly have a friendship as well as respect for on another, as Yzak aids her during her one-shot manga on some tweaks she's performing on her mobile suit. Furthermore, she's a skilled fighter which Yzak has a great deal of admiration for, as evidenced by the fact that she's on his team in the first place. While her focus is more on the spin off series'/games and she has her own storylines independent of Yzak, she returns to his team in Gundam SEED Destiny.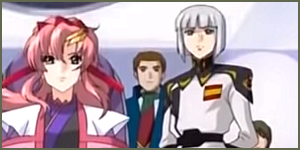 Yzak & Lacus: Despite the lack of proper interaction between these two, you can get an idea of some things about them. You learn quickly in Gundam SEED that Coordinators as a whole tend to admire Lacus, so it's not a stretch to say Yzak is one of them. In Gundam SEED Suit CD 5: Athrun x Yzak x Dearka, one of Yzak's many jealous frustrations with Athrun is that he's engaged to Lacus, along with other aspects of his life and talents that seem 'perfect' and always one-upping Yzak. Later in the series, Lacus' exile from PLANT is one of the reasons Yzak starts to question things, telling Klueze that he didn't think someone like her could truly be a traitor. Though Lacus is not his driving force for the changes he goes through, his actions at the end of the series in trying to do what was right instead of what he ordered, include ensuring her safety. In Gundam SEED Destiny, they likewise don't really interact, nor do we much of how Yzak reacts to Meer, her impersonator. When Meer was revealed to be an imposter, however, Yzak didn't show any sign of surprise. At the end of the second war, Yzak personally escorts Lacus back to PLANT and later is seen at her side when a new path to peace begins to be paved. In the Melancholy of Yzak drama, there are rumors going around that not only Yzak is a member of Lacus Clyne's fanclub, but he is member #1. Yzak himself does not deny this despite his turmoil throughout the drama.